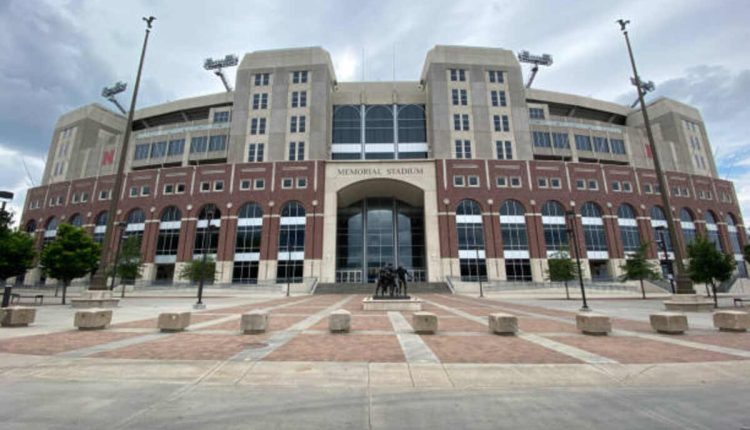 Nebraska High School Rodeo Association
Lynsie Lancaster says rodeo runs deep in her family. Since her last name is so meaningful to her, she gives every performance the effort it requires – be it high school or college rodeo. Lynsie strives to reach her goals set out and work toward accomplishing them with determination.
This weekend, Burwell will host the Nebraska High School Rodeo Association state finals. We caught up with some students competing.
What is it?
Nebraska High School Rodeo Association gives students in grades 7 through 12 the opportunity to compete in rodeo while attending their respective high schools. NHSRA stands out among varsity sports in that it operates independently from school administrations and does not receive public funding, yet provides fully insured, supervised, and guided programming with adult experts in rodeo acting as mentors to high school participants. NHSRA competitors receive scholarships, both academic and rodeo-specific, that assist with continuing their education after high school graduation.
High school rodeo is an involved endeavor; participants must attend at least two rodeos per weekend during the regular season and three to five additional ones during playoffs. At each rodeo, contestants must qualify by earning specific numbers of points – first place is awarded 10 points while ninth and tenth places make 9, and so forth until one end is made at each rodeo; generally speaking, each rodeo event counts as its separate rodeo for points purposes.
Burwell is no stranger to hosting significant events, and this week marks Burwell's inaugural hosting of the National High School Finals Rodeo. As Hastings had pandemic restrictions that prohibited hosting, Burwell took on this role instead, and event organizers have been planning for this monumental undertaking since the fall.
Story by Ruth Nicolaus
Cowgirls in the Nebraska High School Rodeo Association know both hard work and dedication are essential, yet having fun while competing is also crucial. Kate Rathjen of David City stands as an excellent example. Competing in barrel racing, pole bending, and breakaway roping events, she set goals as a child for herself to achieve and always gave 110%.
Teige Whetham keeps busy with both football and rodeo, playing for Morrill Lions while making long trips across state rodeo circuits as a high school rodeo competitor. But his family makes time for what matters most – their children.
How does it work?
Kate Rathjen set herself high standards and goals when she was still young, setting an intention of always giving 110% in everything she did, whether rodeoing or school work. And that was precisely what happened.
The NHSRA authorizes over 1,800 local rodeos across the country and hosts the state championship each June in Hastings. Each event (team roping top 60 competitors) qualifies to compete at this finals by earning points during fall and spring seasons; 30 contestants per event earn spots to compete at finals with points earned throughout those seasons.
Dane Pokorny of Thedford High School will lead steer wrestling at both the state finals and the National High School Rodeo this year. His sixteen-year-old gelding Shorty will retire after competing at these rodeos.
Rylee Legg of Kenesaw, Georgia, is another state champion heading to the finals. Although she didn't start high school rodeo until her junior year, she found it enjoyable: "It's fun, and you meet a lot of new people; I would recommend it to anyone!"
This year's high school finals will mark a first: they'll be co-hosted with college rodeo teams from the University of Nebraska-Lincoln, Mid-Plains Community College, Chadron State College, and Hastings College – each providing scholarship prizes for competitors who cut.
Partner Up Rodeo is an annual event created by ESU 16 ag and special education coordinator Jan Cox-Fornander to give children with disabilities an unforgettable day. It is usually held at Lincoln County Fairgrounds in North Platte. It brings together hundreds of volunteers from Western Nebraska. Volunteers range from teachers and paraeducators to community members with agriculture or rodeo experience, all striving to make an impactful difference in these children's lives. ESU 16's goal is to give their special needs students an experience that fosters joy, confidence, and accomplishment, creating memories with family. This year's event attracted over 180 cowboys and cowgirls from each district in ESU 16 – genuinely making this celebration memorable!
What events are there?
Burwell is no stranger to significant rodeo events, and this week, the community of Burwell will play host to students from across Nebraska as part of the National High School Finals Rodeo. Tagg From, president of the Nebraska High School Rodeo Association, says this event provides great experiences for kids.
This year's NHSFR competition will take place July 18- 24 at Lancaster Events Center in Lincoln, which is accessible to the public. High school students enjoy performing before an enthusiastic audience in their hometown.
Reagan McIntyre of Grand Island Northwest Cowgirls holds an unsurpassable lead in both events at the National High School Finals Rodeo (NHSFR). She also participates in volleyball, basketball, and track while maintaining an honor roll status at her school.
High school rodeo athletes strive to reach college rodeo and beyond, but that can be challenging when multiple children compete at once in various events. Kate Rathjen from David City is one such family with multiple rodeo participants – her two daughters both compete in identical rodeo events!
While she enjoys rodeo, she doesn't want them to miss out on other opportunities they may encounter as teens. Unfortunately, her husband's job keeps him away during rodeo season, and schedules have to be strictly adhered to for success in rodeo competitions.
She hopes her daughters develop their skills and enjoy rodeo as much as she does, yet remains realistic about their future in this sport.
Bo Bushhousen of Worms is another state champ headed to Nationals this summer. He won the boys cutting division on his eight-year-old bay gelding Big Short Stuff or "Doc." When not competing, this 17-year-old is busy working his family ranch and aiding in feeding barn operations as well as taking 24-hour shifts at three sale barns – an extremely hectic lifestyle that he says makes the trip worthwhile.
Who competes?
Shealynn Rasmussen had quite an ambitious agenda during her high school graduation weekend: competing in the Nebraska High School Rodeo (in Burwell), hosting a high school trap shoot in Ord, and helping put on a college rodeo in Lincoln – all without missing her graduation ceremony! But Shealynn doesn't mind taking on such tasks: "I really enjoy helping out with high school events and rodeos; it's an awesome way to meet people!" she stated.
Reaching Nationals in high school rodeo is an immense achievement for these young athletes. To earn their spot at state finals, they accumulate points throughout the fall and spring seasons. At NHSFR in Hastings this weekend, 158 cowboys and cowgirls will vie to be Nebraska's best rodeo performer.
Clancy Jo Brown from North Platte is making her Nationals debut for Cutter. Equipped with seven-year-old Doc, her state championship horse since childhood. "He's been with me my whole life!" Clancy notes Doc as the critical factor behind her rise in cutting.
Dane Pokorny, a 2022 graduate from Thedford and state champion in steer wrestling, will attempt to defend his crown this weekend at Adams County Fairgrounds in Hastings for NHSFR.
Shealynn Rasmussen is also an exceptional team-roping competitor. She teams with Jate Saults from Sheridan; "we both share similar styles, so it makes for an excellent pairing," Rasmussen noted.
Caiden Milam is a state champion bull rider, but initially, his parents weren't on board with his decision to enter rodeoing. They were initially skeptical but have become his most prominent supporters and give their full backing now. "It's cool being able to get my family behind me and show them what I've accomplished," Caiden noted.
Makayla Wray from Mullen is an ambitious young lady who always gives 110%. She serves as vice president of her FFA chapter, is a member of the National Honor Society, plays basketball, and recently qualified for the NHSFR breakaway roping competition. Makayla makes long drives with her family to rodeos across Nebraska – it can be challenging work at times, "but it is all worth the trip," says Makayla.